Services
Our quality service does not stop with your purchase. Pianos are complex instruments and there are over 5,000 moving parts inside them. If there are any settling in adjustments with your piano, we will quickly send out one of technicians.
We have an excellent reputation for our standards of service, our Testimonials Page has many comments from our satisfied customers.
We are specialists in all aspects of piano work and our experienced team can also offer a comprehensive piano moving service.
Our specialist services are below;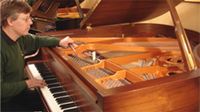 Under normal domestic conditions, your piano should be tuned twice a year. Our qualified, experienced tuners are greatly in demand. Please telephone us on 01386 860419 to book a tuning appointment.
Repairs and Restoration
Our excellent team of technicians are very capable of carrying out a range of work, from small repairs to your piano in your home, through to major rebuilding of your piano in our workshops.
Please ask for further details and if you would like us to quote to restore your piano, please Contact us. We will happily provide photographic examples of our restoration work if required.
Piano Lessons
We have a list of local teachers whom we can happily recommend. just get in touch.
Piano Hire
We have a extensive range of pianos for hire to suit your needs, from portable digitals to stylish grand pianos for your wedding or party, contact us for more details.
Piano Moves
If your piano requires moving from one room to another, or if your moving house.
Piano Storage
Your grand piano or upright piano can be stored in our storage area. Read more on 'Piano Storage'