Advice
Pianos are individual items – It is essential that you play the piano you are going to buy – even two pianos next to each other on a production line can sound very different.
SELECTION – We have over 100 pianos on display for you to play.
CHOICE – We normally have several examples of our best selling Kawai pianos, so that you can choose the actual piano most suited to you.
PREPARATION – We set up pianos in our workshops to ensure your piano reaches you in perfect playing order. We offer a comprehensive and personal service with our team of technicians thoroughly regulating, toning, tuning and checking every piano we sell.
DELIVERY – We have our own specialist delivery team to safely install your piano. It is never left on the vehicle over night, so the piano arrives nicely in tune.
CONTACT – In case you have any questions or concerns, you can phone us from 9am to 5:30pm Tuesday to Saturday. As well as being open 5 days a week, we can also accommodate out of hours viewing to suit you.
We offer very reasonable prices that include delivery, the first tuning free for new pianos, a cleaning accessories pack and up to 10 year guarantees. Our after sales service is second to none.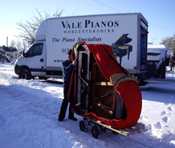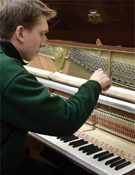 Some of the dangers of buying a piano…
Very often, heavily discounted pianos sold on-line do not include extra costs involved, such as delivery and tuning . Guarantees are often not included in the deal. These pianos can often be despatched direct from the manufacturer and transported for several days with many other pianos on a hot or cold truck, making the tuning unstable. Our pianos are delivered on the same day as loading, enabling the customer to receive a piano that is still in tune and immediately ready to enjoy.
Our digital pianos are delivered to you fully assembled and checked. Our specialist delivery team will plug in the instrument where you would like it positioned.
So we won't leave you like this…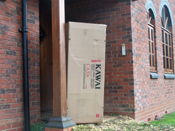 Discounted digital pianos on-line are mostly despatched unassembled in the box and are unchecked. If damages occur when delivered by courier service it often takes weeks to resolve the problem. Guarantees can often be over-looked.
We are a friendly, trustworthy, family business that offers a comprehensive service rather than a discount warehouse. Our prices are very competitive – please call us.