Digital Conversions
Is your treasured old piano in need of a new lease of life?…
Digital Conversions are a unique product made in our workshops here at Vale Pianos. The old strings, frame, keys and action are replaced with Kawai digital components, whilst the beautiful piano case in maintained. Digital Conversions combine the modern technology of today with the traditional craftsmanship of the past, giving an opportunity to preserve a well-loved instrument.
Discover the benefits of a digital piano in a real piano case…
Some older pianos have extremely attractive casework and although restoring the whole piano is not financially viable, the case can be recycled by converting to digital. As you can see from this Digital Conversion pictured below, we are very careful to make sure that the converted piano looks authentic. There are a selection of piano cases available to choose from at the bottom of this page or enquire about having your own piano converted to digital.
If you are considering having your piano converted to digital, there are some important measurements to check suitability of the piano case.
The most crucial measurement is 123cm between the 'cheeks' at the front of the piano, as below: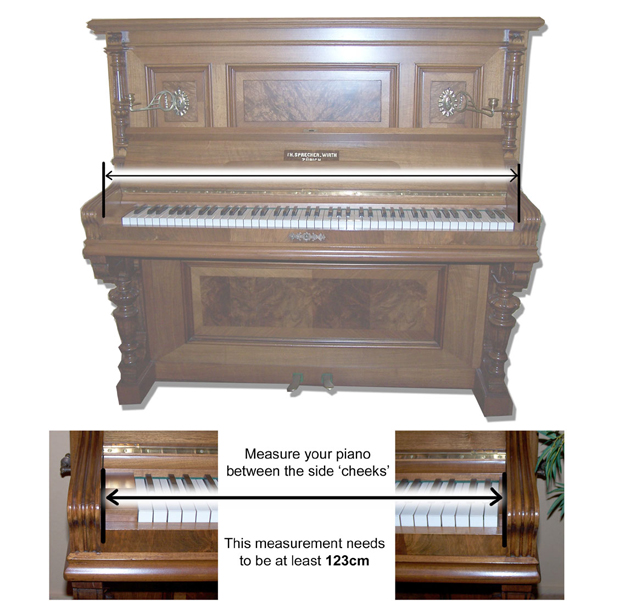 Digital Conversions give the option of playing silently through headphones. This can also be achieved with a QuietTime system or the Kawai Anytime pianos.
Some of the more unusual project we have done.
Google Piano
We were contacted by Google Uk that they needed a unique project of a square piano being converted to digital for their Digital Workshop in Manchester.
Bombay Bicycle Club
We were contacted by Bombay Bicycle Club to convert a piano for them to use.
Square Piano
We were asked by a client to rescue a square piano that he had purchased from someone that had taken it apart as a home project. Once we had the piano in our workshop we began to redesign the missing pieces so that they would look authentic for the period of manufacture. We made various compartments that would accommodate the electronic components, resulting in a lovely instrument to play with a traditional antique style.
Selection of digital conversion cases below: *DENOTES PIANOS SOLD